REIDEEN THE BRAVE / 勇者ライディーン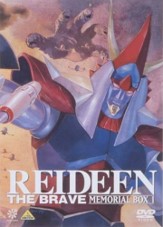 30min x 50eps
1975
ANIMATION(TV)
(C)TFC
STORY : Evil Empire, Breaking out of its confinement for centuries, is trying to take over the Earth. Akira, hearing a super natural voice telling him to stand up, finds himself inside Reideen, a gigantic robot created by the king of the lost Moo civilization, in order to fight against the ferocious enemies, not knowing that he is the heir to the Moo Empire.

Broadcast on TV Asahi.
©TOHOKUSHINSHA FILM CORPORATION, ALL RIGHTS RESERVED.